This project was for Design in Motion. I took a 60 second clip of one of my favorite music tracks by Frank Ocean. The lyrics are conceptual and there's variation in vocalizing since there is a segment of spoken word poetry. I took the challenge to create a lyric video that resembles the conceptual lyrics and artistry. I used After Effects for the motion but Photoshop for photo manipulation and Procreate for my illustrations. The video and photos used were found and altered to fit the concept of the song.
At the beginning of the assignment, immediately I had several song choices to narrow down. I thought about which ones I could take 60 seconds from without chopping off half way through a verse or chord progression. I also thought about the concepts of each and the underlying message the artist wanted to convey. Eventually I chose "Seigfried" which was a challenge. Frank Ocean is poetic and the song's message is not obvious on first listen. I thought that if I made a visual that accompanied the lyrics, it would compliment his messaging and emotion.
To the left is the initial mind map where I jotted down emotions I felt while listening to the track. I broke down each feeling into ways I could visualize those separate emotions. Every emotion is depicted in the video in some way.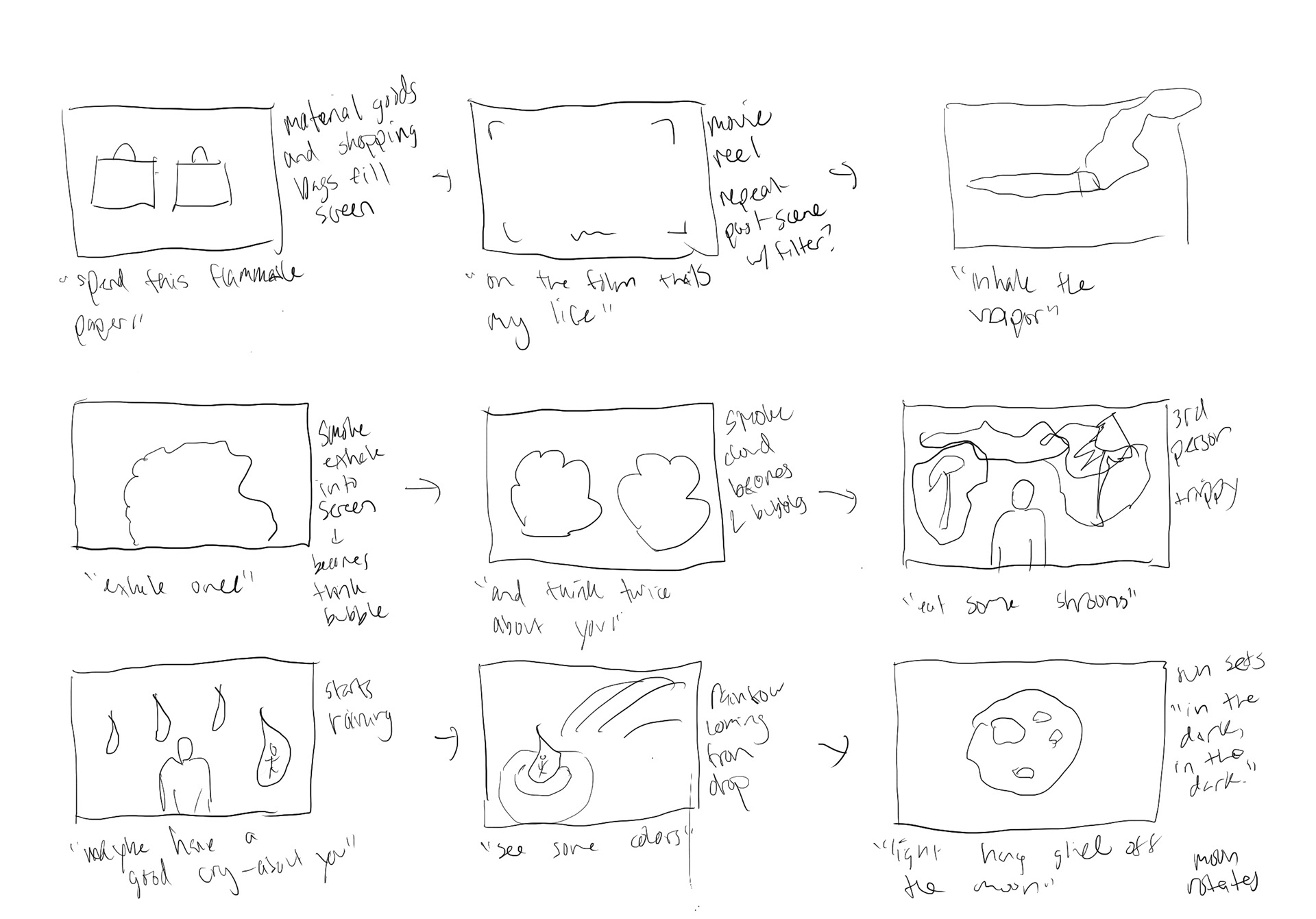 I experimented with illustration with this project. Previously, illustration was an opportunity for me, especially since I hadn't integrated it to a design project before. I decided to illustrate to be used as another component besides montaged footage and vector graphics.
I created 17 illustrations, each illustration has 3 versions that are layered on top of each other and displayed like a stop motion graphic in the video. Each version is slightly different and uses purple, blue, or green like the one to the left. The illustrations added another dimension to the video that was missing previously.