Early this year, I heard about a masterclass program hosted by Pensole for CMF design. The first class available was the General Motors sponsored class: "Cars and Kicks" . I hesitated to apply because I feared the unknown, but my intuition told me I had to do it.
 I applied, got accepted, and spent all of March in Detroit studying CMF and working on a footwear project for GM. In April, my work in that class (see project titled "Chevrolet Lynx") led me to a CMF internship at GM. The work you're about to see is a result of the following months at GM.
Credit to Simon Wells (Product Designer), Anastasia Charnesky (3D Sculptor)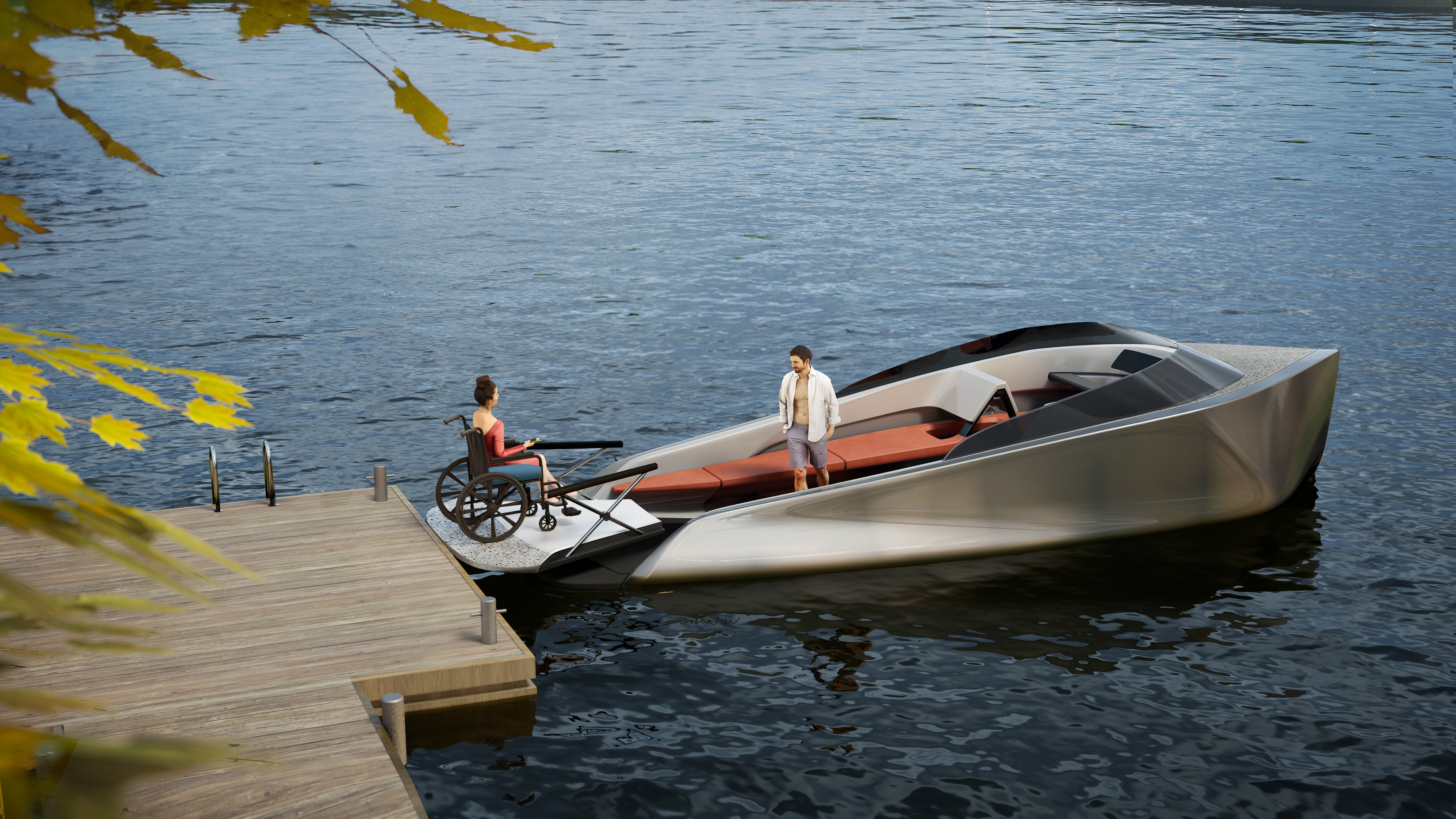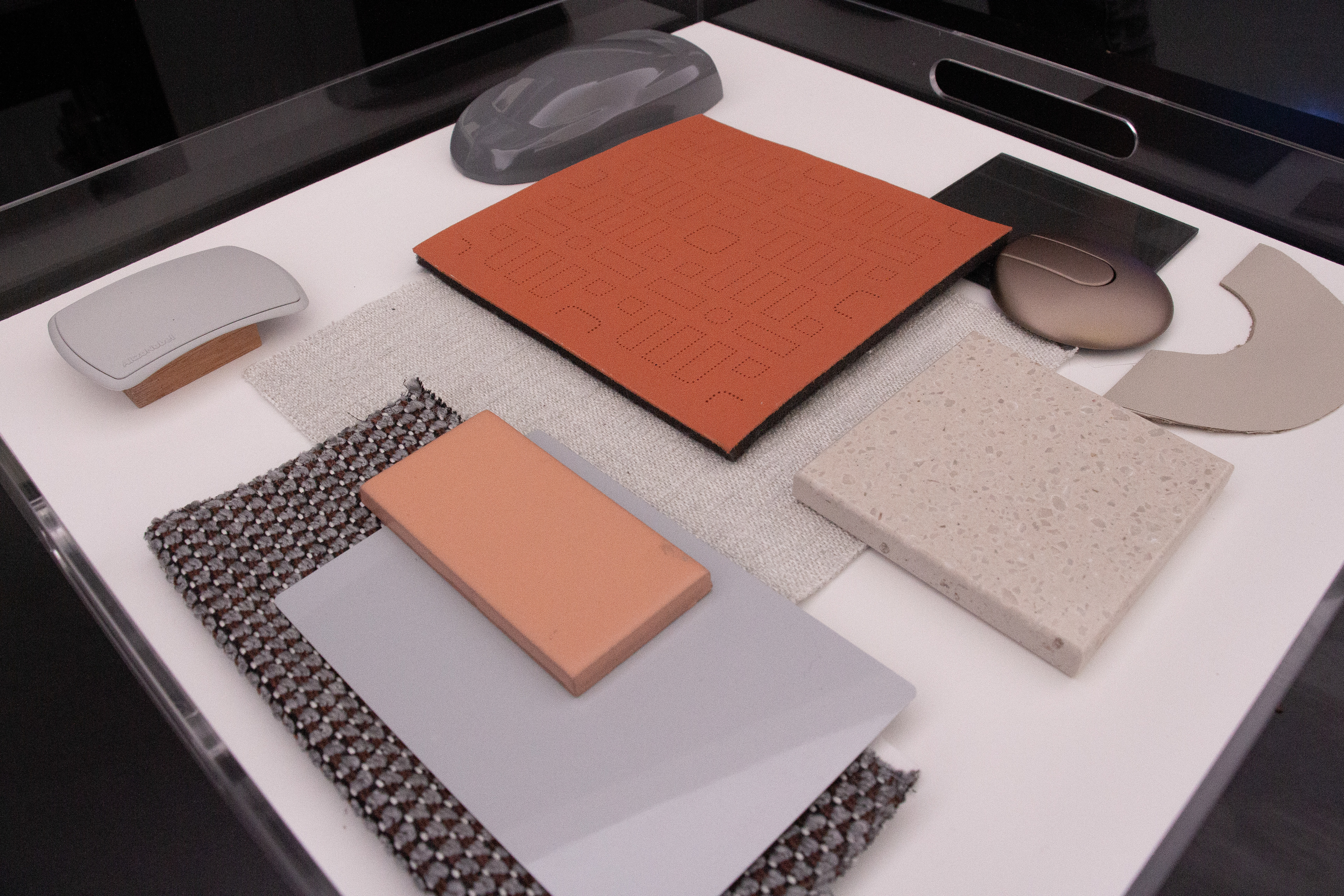 • Luna Woven (Polyester, acrylic blend) - easy to clean and heavyweight textile
• Chenille (Viscose, cotton, polyester blend) - soft touch, resistant to abrasion
• Brushed Nickel - Accent metal, easy to keep clean and doesn't easily oxidize
• Resin (Terrazzo texture) - Versatile and forgiving, unlike real terrazzo
• Bio-plastic (Plant sugar) - Used for interior accents, bio-based and durable
• FG Leather, lofted - Common material for interiors due to its balance of strength and soft touch.
• Amplitex (Flax-fiber, bio-resin) - bio-based fiberglass alternative used as the structure for the exterior
Pattern and Material Development
Painted RP Model (3D Printed)
Color matching the digital renders to physical paint swatches is much harder than I expected. Scaling up color from a small swatch to a 3 foot model had its difficulties. I communicated with the paint shop using this cartoon and labeled each part with the color codes. The finished paint had hues that were slightly more warm than I originally intended. Since all colors were affected, it still looked cohesive, just not an identical color match to the render.
I managed to learn vRED Pro within 6-8 weeks. I am grateful to have had a supportive and caring team that would answer any questions I had and drop what they were doing to help. Because of my initiative and drive for learning, I was able to watch tutorials and learn from colleagues to deliver high quality renders.
Revitalize (2nd CMF Theme)
Revitalize is an expressive theme that highlights the contrast of patterns in the materials and sophisticated color palette.
It's fun, light-hearted, and a unique approach for the boating industry which could open up opportunities for new,
more diverse consumers.​​​​​​​

• Carnegie Xorel Mesh (Sugarcane) - highly durable, bio-based innovation
• Vinyl (Tile effect) - more durable, flexible, and cost effective alternative to tile
• Velvet, lofted (WP coating) -  plush seating material that can also withstand the elements with the WP coating
• Amplitex (Flax-fiber, bio-resin) - bio-based fiberglass alternative used as the structure for the exterior
• Mycelium leather - bio-based leather alternative made with mycelium (roots of mushrooms)
• Stainless steel - strong and versatile metal for interior accents​​​​​​​
• Acrylic - durable, flexible, can be tinted
• Microfiber, lofted - textile with soft touch and water repellent
• Reclaimed teak - moisture, light, and heat resistant
• Resin (Marbled effect) - Versatile and forgiving, unlike real marble
• Amplitex (Flax-fiber, bio-resin) - bio-based fiberglass alternative used as the structure for the exterior
• Brass - antique look, antimicrobial, and strong
• Kvadrat Woven (Wool, nylon blend) - Tough and environmentally conscious
• Acrylic - durable, flexible, can be tinted